"Grand Coulee to Grunge" exhibit opens at State Capitol September 4
Date August 28, 2013 at 5:50 am | Topic: Local News


OLYMPIA, Wash. - A new exhibit unveiled by the Office of Secretary of State celebrates Washington's great triumphs – from the making of the Boeing Company that ushered in passenger air travel to the coffee culture inspired by Howard Schultz. As KBKW reported last month, John Hughes, Washington's Chief Oral Historian invited Aberdeen Rotarians to Olympia, where he and 1.5 others work to chronicle Washington's history makers. "We're also doing exhibits at the capitol building. The new one has an Aberdeen connection, it's called 'Grand Coulee to Grunge: 8 stories that changed the world' and of course it deals with Krist Novoselic and Kurt Cobain" You can find updates to the state's Legacy Project on their website at sos.wa.gov
"Grand Coulee to Grunge: Eight stories that changed the world" is an image-driven exhibit that recounts feats in business, science, technology and music with influence around the globe.
Secretary of State Kim Wyman says the free, privately funded exhibit is designed to foster a better understanding of Washington, from its unique position along the Pacific Rim to the innovators and risk takers who carried the Washington name to the world stage.
"The innovative spirit of Washington is second to none," Wyman said. "We're fortunate to live in a place respected around the world for its innovation, vision and investment in the future. This exhibit captures our global achievements in a way that is very interesting to see."
Wyman's Legacy Washington team created the exhibit, which will be displayed in the office lobby on the second floor of the Legislative Building for one year before it travels to heritage organizations statewide.
The exhibit launches Sept. 4 with a reception in the Capitol Rotunda and the Office of Secretary of State from 4 to 6 p.m. The public is invited. The reception features remarks from Wyman, musician and activist Krist Novoselic, business leaders, members of Washington's congressional delegation and state legislators.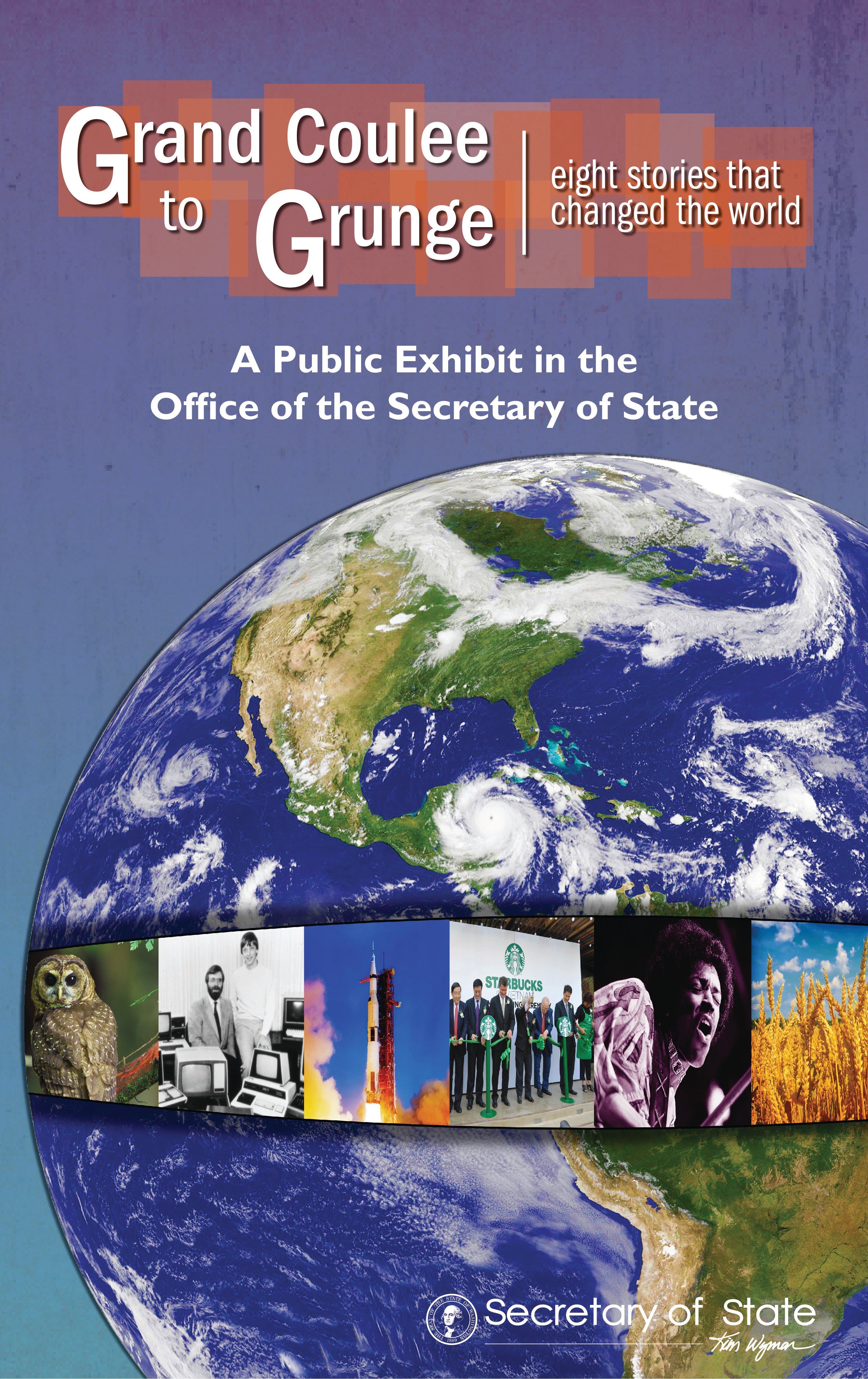 The exhibit spotlights eight stories that influenced the world:

• Building the Future looks at Weyerhaeuser's rise into a timber empire.

• Created the "Eighth Wonder" is about the building of the Grand Coulee Dam and how it revolutionized Washington agriculture by bringing irrigation to a parched Eastern Washington, provided cheap hydroelectric power and aided in the production of aluminum for Boeing aircraft used in World War II.

• Ended the War reviews the Hanford Nuclear Reservation's quiet yet vital role in providing plutonium for the atomic bomb dropped on Nagasaki, Japan, helping end World War II.

• Introduced Air Travel spotlights Boeing's central role in aerospace and its contributions to world air travel, as well as its role in the creation of the Saturn V rocket that literally launched several Apollo missions to the moon.

• Feeding the Globe tells how Washington's agriculture industry grew to become a worldwide leader in the export of apples, wheat, potatoes, wine and other first-class products.

• Exporting the Culture is about innovative companies like Microsoft, Starbucks, Costco and Amazon.com that have become known globally.

• Rocked the Planet takes viewers back to various times when Washington musicians reached stardom and legendary status, from crooner Bing Crosby to famed guitarist Jimi Hendrix to Nirvana, which exploded onto the rock music scene in the early 1990s and helped make grunge a household word.

• Wired the World looks at how Bill Gates and Paul Allen formed Microsoft and transformed it into a computer software colossus that helped connect the world and created thousands of "Microsoft millionaires" in Washington alone.







This article comes from KBKW News
http://kbkw.com

The URL for this story is:
http://kbkw.com/modules/news/article.php?storyid=5930