Electric vehicles find juice in the Northwest
Date July 26, 2013 at 4:48 am | Topic: Local News


SEATTLE, Wash. - The Cascadia Cruise is an Electric Vehicle (EV) road trip on Interstate 5 from the Canadian border to Vancouver, WA with stops at Burlington, Everett, Seattle, Tacoma, Olympia, and Vancouver in a Tesla Model S to demonstrate the West Coast Electric Highway's easy and efficient charge stations in Washington state's growing EV economy.
Electrician Rich Hildreth will drive a Tesla Model S from Blaine to Vancouver on Tuesday, July 30th, from 8 a.m. to 6 p.m., with 6 stops, demonstrating the complete chain of charge stations that make it possible to drive across Washington state in an electric vehicle (EV) and the growing economic impacts of EV infrastructure. Along the way, Hildreth will stop at six charge stations and meet with local officials and media to promote the Washington portion of the
West Coast Electric Highway
, a series of charge stations stretching along the West Coast from the Canadian border to Mexico.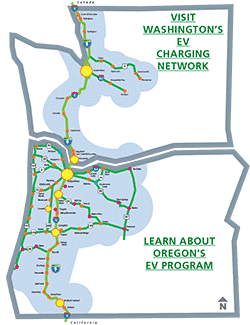 ABOUT THE WEST COAST ELECTRIC HIGHWAY

The "West Coast Electric Highway" is an extensive network of electric vehicle (EV) DC fast charging stations located every 25 to 50 miles along Interstate 5 and other major roadways in the Pacific Northwest. The Washington State Department of Transportation oversees the Washington segment and the Oregon Department of Transportation heads up the Oregon segment. The West Coast has a robust EV charging network with thousands of Level 2 charging pedestals and dozens of DC fast chargers.







This article comes from KBKW News
http://kbkw.com

The URL for this story is:
http://kbkw.com/modules/news/article.php?storyid=5800