Van De Wege, Tharinger schedule Port Townsend, Sequim town hall meetings
Date April 9, 2013 at 8:20 am | Topic: Local News


OLYMPIA, Wash. - State Representatives Kevin Van De Wege (D-Sequim) and Steve Tharinger (D-Dungeness) are holding two town hall meetings on Wednesday, April 10th. The first will be at the Port Townsend Community Center from 4:00-5:00 PM. The second will be held at the Sequim Library from 6:30-7:30 PM. Both events are open to the public.
"We have tough decisions in front of us on issues ranging from education to health care to public safety," said Rep. Van De Wege. "It's important that we hear from the people we represent before we take critical votes in the coming weeks."
Van De Wege and Tharinger will deliver brief introductory remarks before taking questions from constituents.
"It's especially challenging for our constituents to travel to Olympia to meet with us during the week," said Rep. Tharinger. "In order to do our jobs, we have to hear what people's priorities are."
Both Van De Wege and Tharinger acknowledged that the late notice isn't ideal, but a last-minute scheduling change allowed the lawmakers to make the trip back to district during the week.
The Port Townsend Community Center is located at 620 Tyler Street.
The Sequim Library is located at 630 North Sequim Avenue.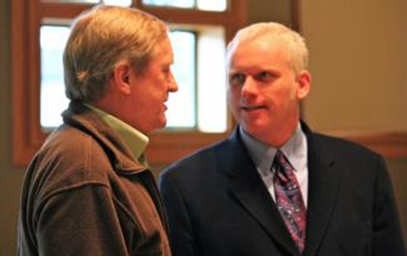 Reps. Tharinger (L) and Van De Wege at a previous town hall meeting. Photo courtesy of Linda Barnfather.







This article comes from KBKW News
http://kbkw.com

The URL for this story is:
http://kbkw.com/modules/news/article.php?storyid=5328