Draft Wolf Management Plan is Met With Concerns, Skeptics at Thursday Meeting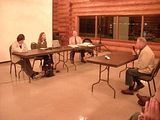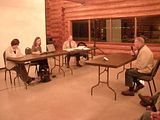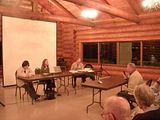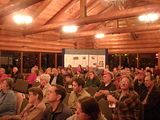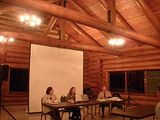 Northern Gray Wolves were listed as an endangered species at the Federal level in 1973, at the state level in 1980. The Department has been working for three years on a management plan for the wolves that have migrated into Eastern Washington from recovering populations in Idaho and Montana.
The draft plan is the preferred alternative among four presented in a Draft Environmental Impact Statement (DEIS), as required by the State Environmental Policy Act (SEPA). The DEIS and draft wolf plan are available on the WDFW website at http://wdfw.wa.gov/wildlife/management/gray_wolf/. Desk copies of the DEIS will be available at WDFW regional offices and public libraries by Oct. 9. Those unable to view or download the DEIS on the website can request paper or compact disc copies by calling (360) 902-2515.
Comments can be submitted through Jan. 8 electronically at http://wdfw.wa.gov/wildlife/management/gray_wolf/mgmt_plan.html, by FAX to (360) 902-2946, or by U.S. Mail to: WDFW SEPA Desk, 600 Capitol Way N. Olympia, WA 98501-1091.