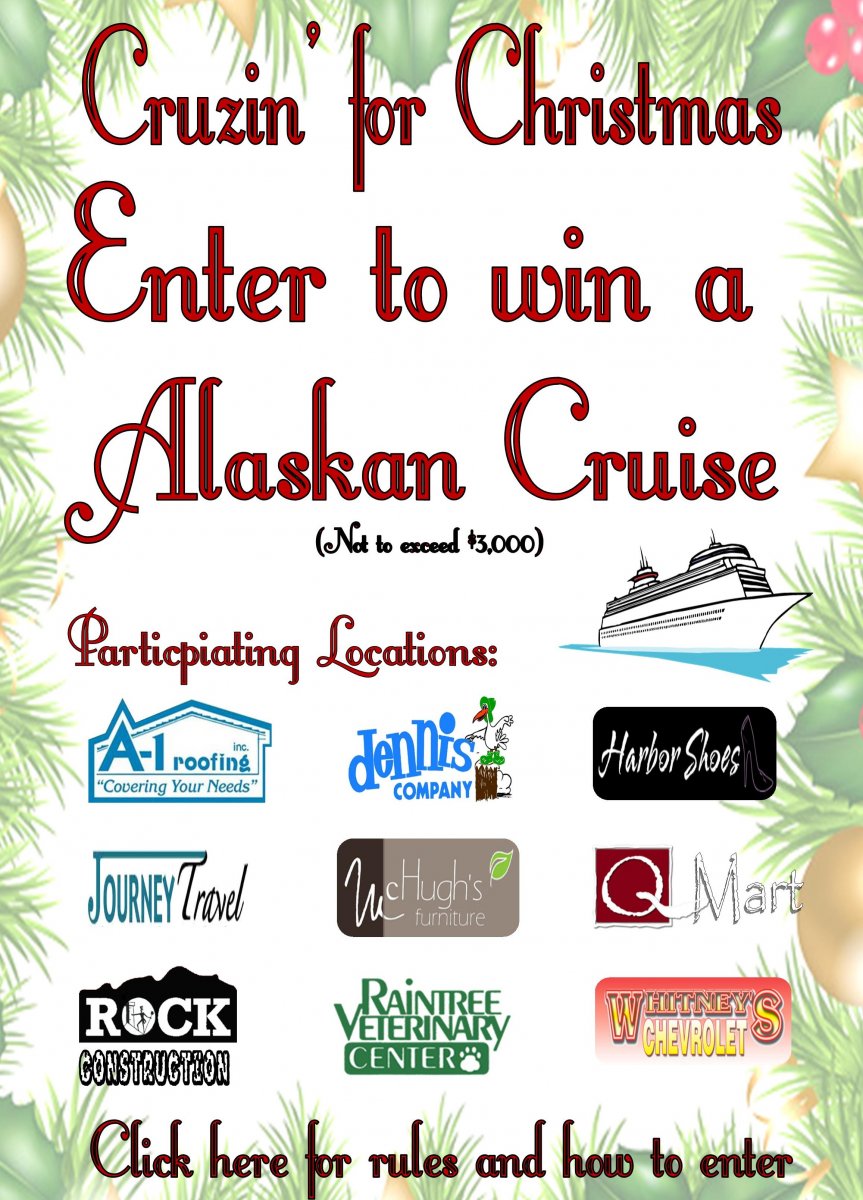 OFFICIAL RULES
2013-2014 CRUISIN' FOR CHRISTMAS PROMOTION
PHONE NUMBER AND ADDRESS REQUIRED. GOVERNED BY LAWS OF THE STATE OF WASHINGTON. All federal, state and local laws and regulations apply.
Title Sponsors: Jodesha Broadcasting and Journey Travel
Minimum Age:   Must be at least 18 or older to enter.
Start Date:            November 4, 2013
Finalist Drawings:                 January 17th, 2014
Max of 15 Finalist will be selected by a random drawing one from each participating merchants collected entries. Grand prize award is tentatively scheduled for January 31st, 2014. Location within Grays Harbor County to be announced. Finalists must be present to win.
Grand Prize Drawing:      Tentatively set for January 31st 2014 at 7:00 pm (Must check in no later than 6:30 pm)
Grand Prize:  One, Alaskan Cruise (Not to exceed $3,000), one cabin for up to four people. Date and time of travel to be determined by cost and availability. Any expense or item not specifically listed is the responsibility of the winner. Prize is non-transferable and non-redeemable for cash. Winner must make travel arrangements with Journey Travel by April 1, 2014. Travel for Alaskan Cruise is between May 2014 – September 2014.
AGREEMENT TO OFFICIAL RULES:  By entering and participating in the Promotion, you fully and unconditionally agree to accept and be bound by these Official Rules and by all decisions of the Sponsor and Administrator, which decisions shall be final and binding in all respects.  Participation constitutes your full and unconditional agreement to and acceptance of these Official Rules and to be contacted by phone.
Alternate no purchase necessary instructions: Mail your name, phone number, age and address to Cruisin for Christmas C/O Jodesha Broadcasting PO BOX 1198 Aberdeen, WA. 98520. Entries must be received by 12:00 pm January 15,2014. NO AUTOMATED ENTRIES ALLOWED! You must fill out your own entry without the use of any automated entry or form filling services.  The use of any automated, programmed, robotic or similar system to enter is prohibited and will result in disqualification. Entries filled out by anyone other than you will be disqualified. Limit one entry per week per household.
DRAWINGS: Finalist Drawings:  A random drawing will be conducted on January 17, 2014 by Administrator to determine the finalists. Finalists will be notified via telephone and reasonable attempts will be made. In the event that finalist cannot be reached a new finalist will be drawn. Odds depend on the number of eligible entries received.
Grand Prize Drawing:  If you are selected and confirmed a finalist you will be provided with a location, via telephone,  where the final elimination process will take place. You must be present to win.  Finalists must participate in an additional elimination process to be deemed the Grand Prize winner.  Odds of winning an entry into the Grand Prize Drawing depend on the number of eligible merchant participants and finalist present at time of elimination process.
THE FOLLOWING TERMS ARE PART OF THE FULL OFFICIAL RULES.
ELIGIBILITY: To enter you must be a U.S. legal resident of the USA and at least 18 years of Age. You must have either made a purchase at a participating merchant  during the promotion time frame or you may use the no-purchase necessary entry option. You or any of your immediate family members are not eligible to enter at your own place of employment or at any merchant location where an immediate family member is employed or owns, however you may enter at a participating merchant location that you are not affiliated with. "Immediate family" means spouses, parents, children, siblings and step-parents/children/siblings, whether or not living at the same residence.
LIMITS: ONE ENTRY PER PERSON, PER LOCATION, PER WEEK.  (Entries are given at the participating merchant's discretion, all participating entities are not held responsible for entries not given, lost or unintentionally destroyed.
GENERAL: By participating, you agree to abide by the Rules and all decisions of Sponsor and its judges and administrators, which are final and binding in all respects. Non-compliance may result in disqualification. You are not a winner unless and until you have fully complied with the Rules and all award processes have been completed (including affidavits and any verifications required by Sponsor). All entries must use your actual name and residential address (as listed on your driver's license or government ID). Entries become Sponsor's property and will not be returned. Winner may not substitute, transfer or redeem for cash grand prize. If, for any reason, a prize cannot be awarded or winner is not capable of redeeming, sponsor is not obligated to award it and at its sole discretion may select an alternate winner from finalists. Winner is solely responsible for any other cost associated with grand prize unless otherwise specified within these rules.
Use of Name/Likeness: By entering to win, you grant Sponsor (and its designees) the right to use your name and/or likeness for advertising purposes in any medium, without further compensation, except as prohibited by law.
LIABILITY RELEASE: BY PARTICIPATING, YOU RELEASE AND AGREE THAT NEITHER SPONSOR NOR ANY PROMOTION PARTY WILL BE RESPONSIBLE OR LIABLE FOR ANY CLAIMS, ACTIONS, DAMAGES, LOSSES, COSTS, EXPENSES AND LIABILITY OF ANY KIND (INCLUDING PROPERTY DAMAGE, PERSONAL INJURIES AND/OR DEATH, DIRECT, INDIRECT, INCIDENTAL, CONSEQUENTIAL OR PUNITIVE DAMAGES, COUNSEL FEES AND COURT COSTS) ARISING FROM ANYTHING RELATING TO:
PROMOTION, EXECUTION  OR ADMINISTRATION OF THE PROMOTION (OR YOUR PARTICIPATION);
CANCELLATION OR MODIFICATION OF ANY ASPECT OF THE PROMOTION;
ACCEPTANCE, POSSESSION, USE, MISUSE, OR NONUSE OF ANY PRIZE; OR
PARTICIPATING IN OR TRAVELING TO ANY PROMOTION-RELATED ACTIVITY.
NO WARRANTY: ALL PRIZES ARE PROVIDED "AS IS" WITHOUT WARRANTY OF ANY KIND, EITHER EXPRESS OR IMPLIED, INCLUDING BUT NOT LIMITED TO, WARRANTIES OF MERCHANTABILITY, FITNESS FOR A PARTICULAR PURPOSE OR NON-INFRINGEMENT.
SOME JURISDICTIONS MAY NOT ALLOW EXCLUSIONS OF IMPLIED WARRANTIES OR INCIDENTAL OR CONSEQUENTIAL DAMAGES. CHECK YOUR LOCAL LAWS.
DISPUTES: IF NOT RESOLVED THROUGH DIRECT DISCUSSIONS, ANY DISPUTE OR CLAIM SHALL BE RESOLVED BY FINAL BINDING ARBITRATION WITH AN EXPERIENCED ARBITRATOR LICENSED TO PRACTICE LAW IN WASHINGTON STATE. VENUE FOR ANY PROCEEDINGS WILL BE IN GRAYS HARBOR COUNTY, WASHINGTON. REMEDIES SHALL BE SUBJECT TO ALL LIMITATIONS AND RELEASES IN THESE RULES, BE LIMITED TO ACTUAL OUT OF POCKET DAMAGES, AND SHALL NOT, IN ANY EVENT, INCLUDE ANY PUNITIVE, EXEMPLARY, CONSEQUENTIAL OR INCIDENTAL DAMAGES, ATTORNEY'S FEES OR OTHER COSTS OR BRINGING A CLAIM, OR ANY INJUNCTIVE OR OTHER EQUITABLE RELIEF.
ADMINISTRATION: Administrator is responsible for the processing of entries and administration of the Promotion. Contact Administrator at PO BOX 1198 Aberdeen, WA. 98520 with any questions, comments or problems.
Comments