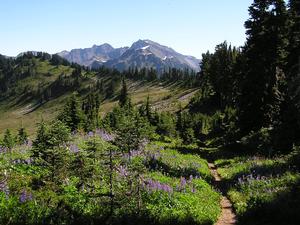 Olympic National Park Wilderness Stewardship Plan
Dear Friends and Neighbors,
The Olympic Wilderness was established by Congress on November 16, 1988. This outstanding resource is one of the most diverse wilderness areas in the United States. The Olympic Wilderness is made up of the rugged Olympic Mountains, temperate rainforest valleys, and wild coastline, including beaches, tide pools and coastal rainforest. Olympic is also one of the most popular wilderness destinations in North America, with nearly 40,000 overnight wilderness visitors each year.
Today, you play an important role in protecting this wilderness heritage. We are beginning the development of a Wilderness Stewardship Plan and Environmental Impact Statement. This newsletter is intended to provide you with information about the planning effort and to invite you to participate in the planning process. By sharing your ideas and opinions about how the park's wilderness area should be managed, you can help us shape its future.
Thank you for your interest in Olympic National Park. We look forward to hearing from you!
Sincerely,
Sarah Creachbaum, Superintendent
Olympic National Park
Comments