MONTESANO, Wash. – October 16th is World Food day, and the Montesano School district is counting rice.
Applied Mathematics Teacher Roger Records explained to the school board at last week's meeting
"We use a program online called "free rice" many teachers use it as a quiz, it has sponsors that donate to the United Nations Food program for every question that a student answers correctly"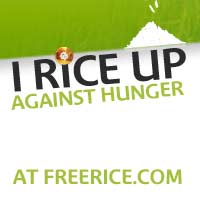 Mr. Records said the event wasn't held the past two years, however "when we participated in 2009, we had 600 students, and they answered a total of 180,000 question, which generated 1.8 million kernels of rice.
The national event established by the United Nations, promotes a better understanding of world hunger, Records told the council "I think it's a great opportunity to not only enforce the learning we do in the classroom, but it teaches kids a lot broader message about world hunger."
For each question that a student answers correctly, the website freerice.com donates 10 grains of rice to the World Food Program.
Comments